Travel Nurse Practitioner (NP) Jobs: What to Look for Before Going Remote
Travel nurse practitioners provide temporary coverage both locally and from state to state. Traveling as a nurse practitioner or other healthcare provider is called locum tenens. According to LocumStory.com, more than 90 percent of all US healthcare facilities use locum tenens clinicians each year. Working as a traveling NP is flexible and exciting. However, before jumping into locum tenens, there are many factors an NP should consider.
When searching for potential work assignments, the NP will partner up with a recruiter from multiple agencies. They can search the online database for jobs or their recruiter will email or call them constantly with new job postings. The NP should let their recruiters know what type of facility they want to work in, such as a hospital, urgent care, clinic, corrections, or home health.
They will also have to discuss scheduling preferences such as working Monday through Friday 9:00 am to 5:00 pm or working seven days on and then off seven days. Before being presented for an assignment, the NP can inquire about how many patients are expected to be seen per day.
One benefit of going remote is to be less stressed than working as a full-time employee. For instance, a novice NP would not be comfortable seeing 30 patients per day in an outpatient setting. They may want to select an assignment where the maximum number of patients per day seen is 20. This is more tolerable for a clinician who needs to spend more time with each patient.
During the interview with the potential assignment, the NP should ask about the orientation offered for travel NPs. Orientation can range from several weeks to just a few hours, depending on the site. They should also ask about supportive staff and if they will be on-site providers. Knowing if the NP will have a scribe and who is part of the care team is helpful. The team may include a medical assistant, nurse, referral coordinator, and/or front desk staff. If the NP works independently, they can find out if there is a physician on staff they can reach out to for any questions.
Travel NP Setting and Pay
NPs that want to start working in locum tenens frequently have the desire to work in only a specific city. For instance, they may say they want to work in Chicago. Travel NP jobs come and go very quickly. So, finding an assignment in Chicago may be challenging at the exact time the NP is looking.
It is highly recommended that NPs are more open-minded about the location they want to work in. It is better to voice they want to work in the state of Illinois, so that there are more options available, and may find a perfect assignment within one hour from Chicago.
As a travel NP, urban areas tend to pay less than rural areas. This is because cities already have many advanced practice providers to choose from. Rural settings pay more because they usually have a greater need. Travel NP pay also varies from state to state. High-cost-of-living states such as New York and California will pay NPs significantly more than low-cost-of-living states such as Florida and Georgia. The budget for housing will also vary by state.
Travel NP Credentialing and Licensing
Obtaining the appropriate licenses is needed before starting a new assignment as a travel NP. Fortunately, there is a Nurse Compact License agreement, which allows reciprocity between certain states with the multistate RN license. In that case, the NP would only need to apply for the given state's NP license. Depending on the state, the application process for a new license may take as little as a few weeks to as much as half-a-year. Be sure to plan accordingly.
The process includes providing fingerprints and a background check, school transcripts, national certifications, and continuing education certificates. The NP can obtain these licenses independently and ask for reimbursement from the agency after working for them, or they can ask their recruiter to help with the application and fees. If an agency assists the NP in obtaining a license proactively, they will require the NP to sign an agreement where the NP can only work with that license under that specific agency for the first year of licensure.
In the meantime, the NP will work closely with their agency to make sure credentialing is being completed for the site. Credentialing is documentation that allows the NP to work with various insurance providers and to obtain clearance and privileges at the work setting. For example, the nurse practitioner will need to have active malpractice insurance, which is provided by the agency. They will need an updated tuberculosis screening, blood titers, and urine drug test. They will also have to provide recent peer references and check which skills they are proficient in.
Travel NP Housing
One of the great benefits of being a travel NP is receiving travel and lodging amenities. While working for an assignment away from home, housing is provided. Depending on the agency and site, housing options range from extended stay hotels to furnished apartments. The NP would communicate with their recruiter to let them know what their preference is. Furnished apartments are comfortable especially for NPs bringing a pet or a family with them. Staying at hotels often comes with free breakfast and the ability to accumulate reward points to use for personal travel.
The NP has the option to use their own car and drive to the site, in which they would be reimbursed the mileage cost. Or more commonly, the site will cover the cost of a flight to the site and a rental car. One benefit of driving their own car, is that the NP is able to bring a lot of their personal belongings with them on assignment. Traveling by plane limits the NP to bringing only one or two suitcases.
As long as the travel NP maintains a tax home and works at an assignment for less than one year, these benefits are all tax free. A tax home is where the NP was originally living in, and can be an entire house or simply a room they rent out of their friends place to store their things and receive their mail. Sometimes housing at the site can be provided in a form of stipend. That way the NP can choose where they want to live themselves, and may even pocket any extra money that is left over from the stipend after paying for housing.
NP Practice Autonomy
Each state has their own laws and regulations that illustrate the scope of practice for nurse practitioners. NPs can practice independently in states like Maine, Montana, and Washington. Other states restrict practice for NPs, requiring a supervising physician such as in North Carolina, California, and Texas. Some states subsequently allow independent practice once NPs have obtained several years of experience as in Florida and Virginia.
Some travel NPs choose which state they want to practice in depending on the level of autonomy allowed. They may choose to work in Washington state because they know they will be able to practice to their full educational capacity. Additionally, states that require a supervising physician often pay NPs less and there may be more overhead, such as auditing of patient charts.
NP Taxes and Insurance
While traveling to another state as an NP, the NP would be responsible for paying state income taxes to the state they are currently working in, even if that is not their state of residency. So, an NP that lives in Nevada (does not have state income tax) but is working in Kentucky, would have to pay 5 percent state income tax during their assignment in Kentucky.
As a result, many travel NPs may choose to work in states with no income tax such as Florida and Washington, to keep as much of their income as possible. When it is time to file a tax return each April, the travel NP will have to file a state income tax return for each state they worked in that previous year.
The majority of agencies for travel NPs do not provide benefits such as health insurance. However, there are a few that do such as Comp Health. Health insurance through Comp Health is affordable and provides decent coverage. It provides coverage in any state, which is nice since travel NPs are typically moving around.
Yet, if there is more than a 30-day gap in employment, then the NP would lose their healthcare coverage. Thus, the majority of travel NPs self-insure, especially when working with an agency that does not provide health insurance. The challenge with this, is that the self-insure coverage usually only provides coverage for their home state. This may be challenging when a travel NP is seeking medical care during an assignment.
Other Considerations for Becoming a Locum Tenens NP
Before going remote, a travel NP should contemplate their priorities in choosing an assignment. Are they concerned about taxes or practice autonomy? Or are they just looking for a place to work that seems welcoming and with a fair patient to provider ratio?
There is a process to starting an assignment, which includes obtaining licensing and completing credentialing. The travel NP should be open minded about potential job locations and should have several housing options when the time comes.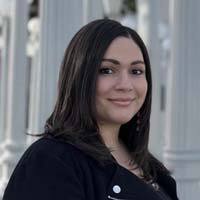 Sophia Khawly, MSN
Writer
Sophia Khawly is a traveling nurse practitioner from Miami, Florida. She has been a nurse for 14 years and has worked in nine different states. She likes to travel in her spare time and has visited over 40 countries.
Being a traveling nurse practitioner allows her to combine her love of learning, travel, and serving others. Learn more about Sophia at www.travelingNP.com.